Published 22 August 2011
For over a year I have been searching for an iPhone app that will allow me to record wine tasting notes. Originally, I also wanted to track the contents of my cellar alongside my tasting notes, but I've since dealt with this requirement by building a stand-alone database. So, I've revisited the apps store with only tasting notes in mind.
The criteria I deem as desirable for a tasting app are:
Recording a tasting note for a specific wine (ideally using a systematic tasting method such as WSET's SAT or de Long)
Allowing multiple tasting notes to be made against a single wine
Having a good search function (to find past notes)
Displaying past notes clearly
Permitting the export/backup of notes
Sending notes via social media
Being easy to use
Not needing an internet connection to make/view notes
Being good value for money
The results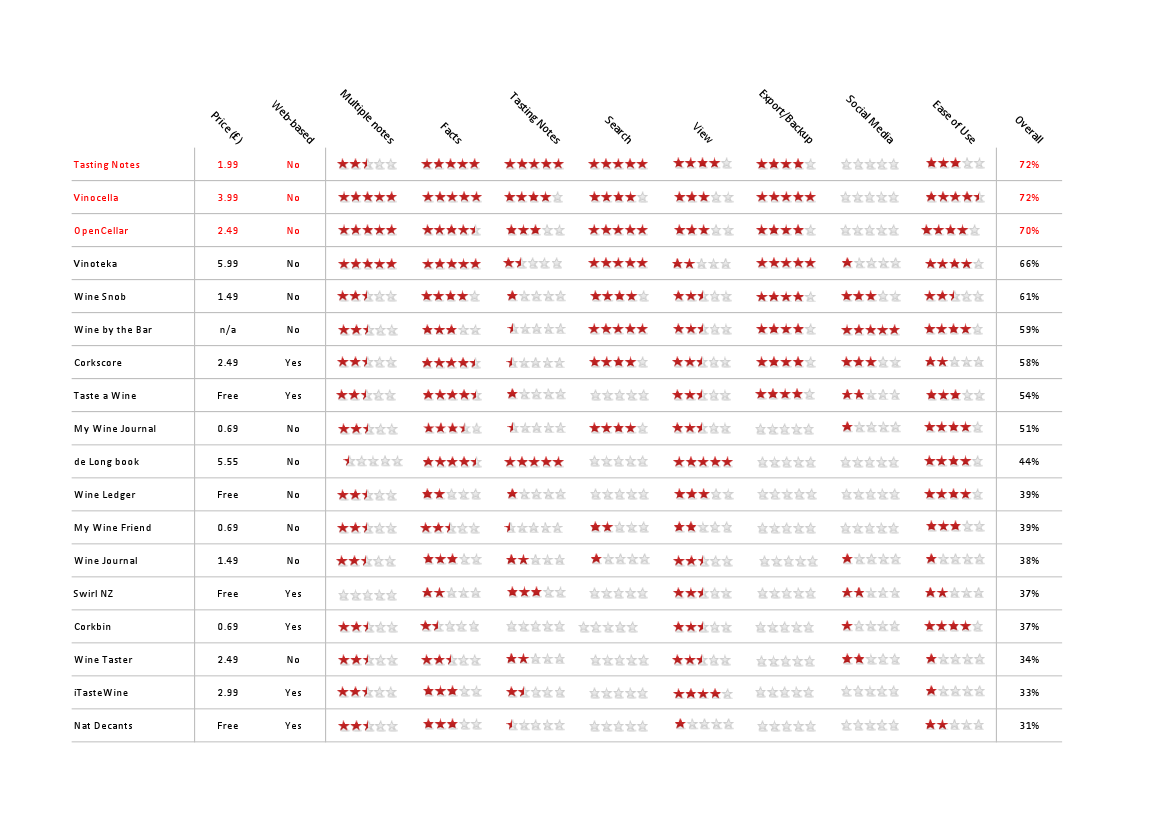 The winners
Tasting Notes (£1.99) by Matthew Campbell takes the top spot because the app is totally customisable, meaning that you can set the fields for your tasting notes exactly as you want them – WSET, de Long, even your own methodology. However, this flexibility comes at a cost: in order to have a decent tasting note template, you're looking at spending an hour or two to set it up. Unfortunately, there is no way of linking together two tasting notes for the same wine, but the search function is so good that it doesn't really matter. The app allows you to backup your notes using Dropbox. As with all the top three apps, there is no functionality to post your notes via social media.
If you're happy to use a tasting methodology set by someone else (e.g. not WSET's Systematic Approach to Tasting, de Long, or your own), then I'd recommend Vinocella (£3.99) by Pixyapps. Their tasting note fields are comprehensive, the app's pretty easy to use, and you can start making notes immediately upon download. You are able to record multiple tasting notes against a single wine and there is a nice csv export option (in addition to an online backup facility). You can also store your cellar info if you want to. However, viewing past notes isn't as good as it could be and, again, there is no social media functionality.
Another good app for recording multiple tasting notes against a single wine, and having a good cellar management function, is Open Cellar (£2.49) by Matthieu Ducrocq. While this also had the best search function of all apps, the tasting note fields let it down. Again, there is no social media functionality.
Finally, if you're not bothered about keeping all your tasting notes in one place, backing them up, or being able to conveniently search past notes, then you should consider an old-school tasting book, such as those by Steve de Long. These ultra-thin books are easy to use and helpfully walk you through the process of making wine notes. However, you obviously have no back-up facility and you'll need to keep buying books as each one only stores 160 tasting notes.
Have you created a tasting app that you think beats all of these? Or are you already happily using an app that I've not even mentioned? In either case, please let me know…