Published 29 August 2012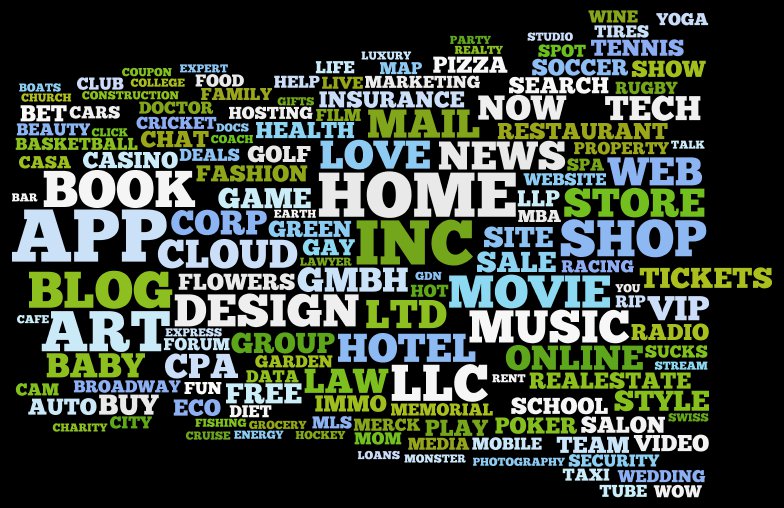 It appears that I missed ICANN's recent announcement about Top Level Domains (TLDs).
Okay, so that sounds really boring and not something that you'd be interested in, but hear me out (I promise it gets better).
A TLD is the last part of web addresses, for example .com, .co.uk or .org. Although each TLD is managed by separate operators (who sell you and me our website domain names, such as bigpinots.com), they are all overseen by a nonprofit organisation called ICANN. Until now, ICANN limited the number to 21 generic TLDs (such as .com and .org) and 255 country-based TLDs (such as .us, .au and .uk).
But ICANN has now relaxed their approach and has invited applications for operators to propose essentially arbitrary words as TLDs, including those containing non-Latin characters. On 13th June 2012, ICANN released details of who had applied for TLDs: there were 1,930 applications, ranging from .aaa to .zulu, but also including .blog, .food and .wine
The application process entailed a hefty $185,000 application fee, the completion of a lengthy application form, and an estimated total running cost of $1m per TLD (although the operator would obviously recoup some of that money from the sale of individual domains to the likes of you and me). With that kind of overhead, who wanted to be an operator for TLDs such as .food and .wine? Tesco? Diageo? Pernod Ricard?
There were 3 applications for each:
Applicants for .food
Applicants for .wine
dot Wine Limited … which appears to be controlled/owned by Famous Four Media
June Station, LLC … which appears to be controlled/owned by Donuts
Afilias Limited … which is actually the company's real name
It's pretty hard to get to the bottom of who these applicants are but, after a bit of research, it looks like all but one are fairly neutral, non-industry companies – just businesses looking to make a shed load of money from selling domains to anyone who's interested. This is big business. Most applications are from similar big domain-selling businesses, with over 82% of applicants having applied for two or more TLDs.
It's now down to ICANN to work out who gets control of these TLDs. According to a mashable article, this depends on various factors such as when they applied and how well each scores in a variety of categories. If there's no clear winner, then it's down to an auction.
The big question is, when the domains for these TLDs become available in 2013, will you buy one? Will you switch from .com to .wine or .blog? Or will you buy them in addition to your current web address? Or will this be a massive flop with the new controllers of the TLDs losing enormous amounts of money?
Some other interesting facts:
The most popular request was for .app (13 applications)
Other popular TLDs were .home and .inc (11 applications each); .art (10 applications); .blog .book .llc and .shop (9 applications each)
114 applications were for TLDs using non-Latin scripts
Application fees received by ICANN (assuming nobody received bulk discounts) exceeded $357m
There were a total of 1,930 applications made by 1,154 different applicants – that's an average of 1.67 applications each.
Google made the most applications with 101 including .baby, .blog, .car, .dad, .book, .diy, .family, .film, .home, .kid, .love, .movie, mom, .pet and .wow, along with weirder ones such as .foo, .guge and .soy!
Amazon came second with 76 applications.
Click here for full details of all TLD applications.