Published 13 May 2013
"Have you photographed this bottle? Can I throw it away now?" Not an uncommon question in the Bigpinots house as, like some sort of digital hoarder, I photograph and document every different bottle of wine we open. I try to document some at tastings too, but that's often just too laborious.
I've struggled with tasting notes for years: full tasting notes are tricky on digital interfaces but paper versions are impractical (see previous blog post reviewing iPhone apps). I recently settled on Pinterest where I combine visual aide-memoir and brief tasting note. Depending on the quality of the wine, and time available, I range from a few words to a few paragraphs – and a photo. Always a photo.
So I was very interested when I heard VINPIN asking "What's on your table?" Was this just the latest Pinterest wannabe or was it offering something different and unique?
How is it different from Pinterest?
VINPIN's founder, Corey Wood, told me that "our biggest difference is, within our app, we will include an integrated label reader and be niched to food and drink only. No purses!". Based in Calgary, Canada, Wood had the idea of creating VINPIN because he likes food and wine but all the apps he saw "frankly made me feel inferior about my wine knowledge and were … boring." So he created an app that is based around wine, food and friends. "It's ALL about crowd-sourced wine reviews and heavy social sharing. I believe there is more trust of random users' comments than a retailer's rating or an expert's opinion. I love this aspect … not unsimilar to Trip Advisor with hotels."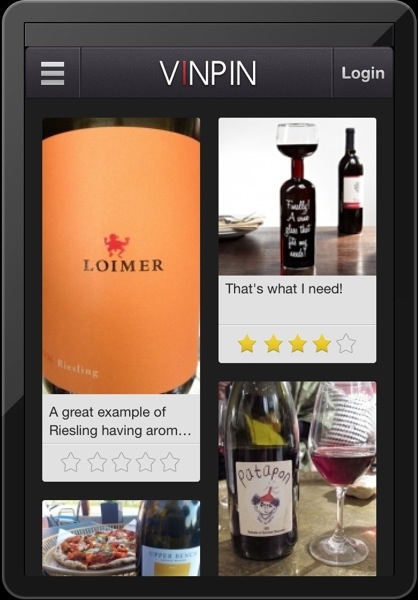 The tech bit
VINPIN has started by getting the basics right and releasing incrementally (as is best practice in development – top marks). So far, the app features:
View pins (in an endless scroll)
Open existing pins to view description
User registration or login with Facebook
Upload a picture, comment and location
Location services: map which shows where each pin, user and winery is located.
The next features to be released are:
Winery showcase pages: allows vintners to upload all the info, pics and videos they want to promote their business
Login with your Instagram account: this will allow users to login and upload images already stored within their Instagram platform
Login with Twitter
Sharing to/from Pinterest
Label recognition linking with Wine Searcher API
The finance bit
So how is Wood going to "turn a buck" on this self-funded project? Well, from the man who bought his first bike from returning bottles for 5 cents each, we shouldn't be surprised to hear that it's going to be through the retailers: once VINPIN has enough data flowing through it from customers, retailers will be able to pay to post time-sensitive location-based offers to nearby users. This will be available in most countries.
But, he's got a different vision for Asia. Wood has "seen the rise of the almighty grape and the desire to learn. It's not so much about the retailer side for them; it's more education and generation of interest in key brands from western suppliers." I look forward to seeing what he comes up with there.
Note: the original version of the iPhone app is being decommissioned due to the need to switch developer licences. Previous subscribers will need to re-register.