Published 15 September 2013
What a fabulous summer we have experienced in the UK this year: many opportunities for picnics, barbeques and drinks in the evening.
But with these idyllic moments come wasps, flies in your wine, glasses knocked over or broken by the kids/dog, warm wine, etc. Thankfully, Vino2Go has solved all these first world problems by bringing out "the portable wine glass". So, is this a revolution for wine glasses?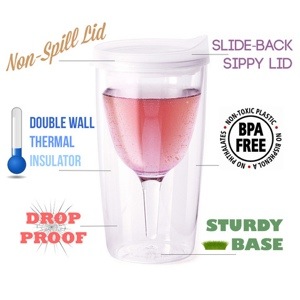 Firstly, it isn't glass; it is drop-proof and shatter-proof (BPA free) plastic. The double wall means that it has thermal insulation so your wine won't get warm as quickly. The other major feature is the lid which has a slide across opening – preventing unwanted debris falling in your wine or from spills if it gets knocked over. Both the insulation and lid work well.
But, it is a bit like drinking out of a thermal mug that commuters use for their morning coffee: the rim is thick. I gave away my Ikea wine glasses long ago because the rims were thick and not very pleasant to drink from. So, although it makes perfect picnic/festival spill-free sense and is re-usable, unless these are major problems, it's going to struggle to compete with glass and even those thin, disposable glasses.
Pros
Lid works well
Looks quite nice and comes in a variety of colours (from red, black and white to pink, green and orange)
Heavy duty (Shatter-proof)
Cons
Rim is too thick / not very nice feeling
In essence is just an insulated beaker
Quite expensive (£14.99 each or two for £27.99)
Hand wash only
Improvements
Would benefit from rubber base (so doesn't slip) / may benefit from heavier bottom too so that isn't top-heavy when full
Although they will stack, would be good if base of one locked/clipped/secured into top of another (so easy to carry more of them)
Vino2Go sent me a sample glass, but I received no remuneration other than that. All opinions are my own.