Published 2 February 2011
OK, so it's not a completely new shop; it's been around for about three or four months. But, it's still new to a lot of people: I met one (semi-pro) blogger last week who still hadn't heard of it or the original shop in Islington. I am, of course, talking about The Sampler, the ground-breaking store in the UK that allows customers to buy samples of wines (from inexpensive Semillons to wines from Chateaux Margaux, Sassicaia and Stag's Leap).
It does this despite strict UK licensing laws that stipulate all alcoholic drinks must be served in very specific measures. It gets around these laws (which scuppered Selfridges' plans for a similar venture in 2007 – click here for an article discussing this) by selling the samples in unstated volumes: it's either 1 measure, 2 measures, or 3 measures. But what these measures are is unstated. However, I think it equates to roughly 25ml. Or, about a mouthful. And you pay a proportion of the bottle's cost for the privilege. For example, a bottle of Alpha Zeta might be on sale for £25.99, with a single sample costing £1.17.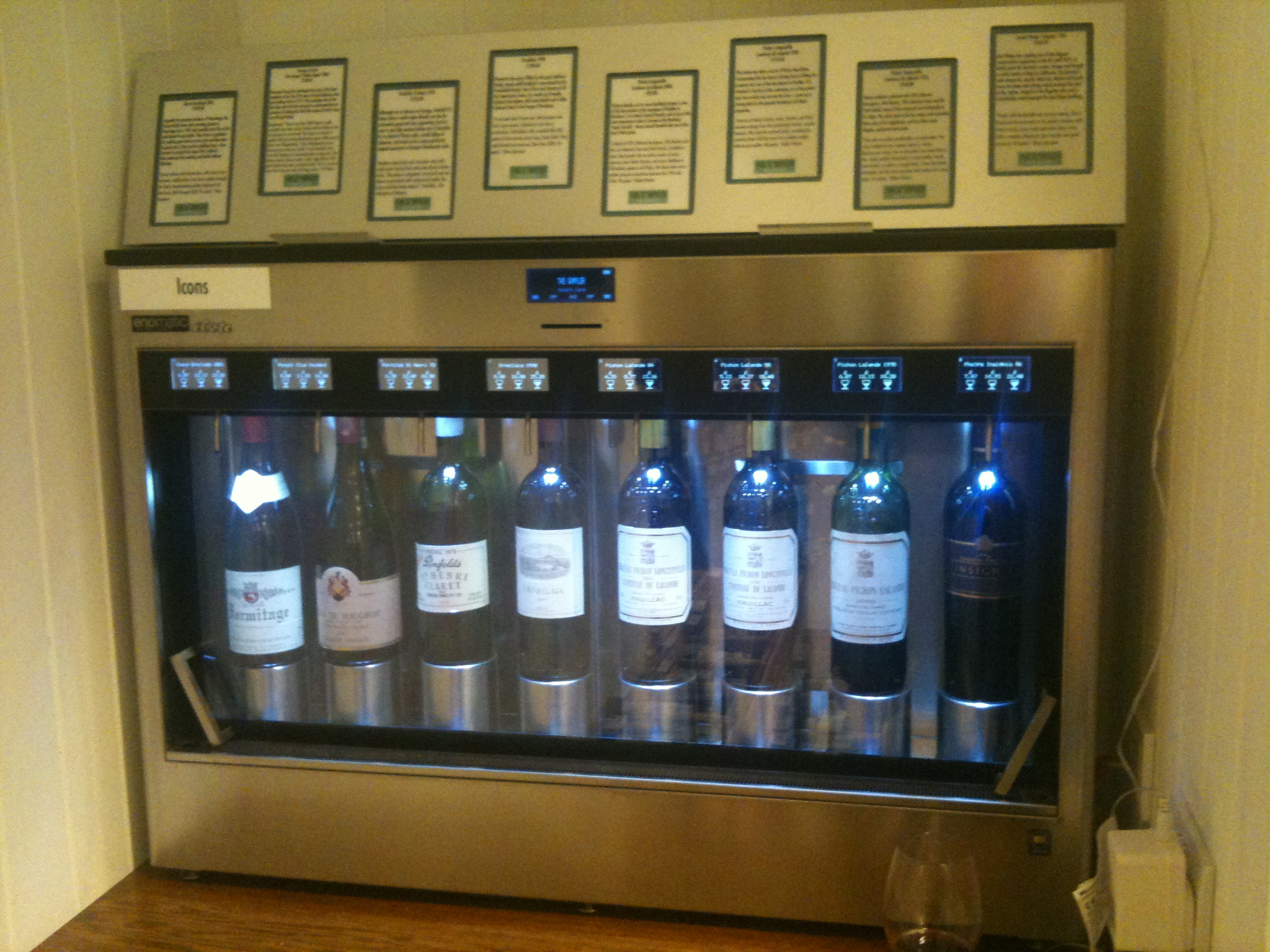 There are 10 enomatic sampling machines in each shop, each holding 8 bottles – and never the same bottles in each shop. These ingenious contraptions pump harmless nitrogen gas into the bottles to stop oxygen ruining the wine. The machines are mostly grouped by variety (e.g. Syrah/Shiraz), but there is also a 'sweet wines' machine and a 'Wine Icons'. The latter has held greats such as a Petrus, Latour and Lafite – I think the '78 Petrus was just over £35 for a sample. Expensive? Maybe. But are you going to get a chance to buy and taste it otherwise?
The first shop was opened by Jamie Hutchinson & Dawn Mannis (and Ivy the dog) in Islington, London, in November 2006. It is now a haunt for wine buffs and WSET students; being able to sample a wide variety of wines, without having to buy whole bottles, has an obvious attraction to wine students. The Islington shop is perfectly placed in Upper Street – which runs from Angel tube station to Highbury & Islington tube station.
And the new shop in South Kensington? Well, this takes the concept to another level. It too has 10 sampling machines, a great stock of wines, and friendly / knowledgeable staff. But, in addition to these standard The Sampler features, it also has a very spacious first-floor room that is used for tasting events (it used to be slightly off-putting going into the Islington store to taste/buy wine, only to find that they were having a paid-for event in the shop – it's not the biggest of shops). And then there's downstairs: a dark, moody basement room where the premium wines are kept. Here you can browse the kind of wines that you and I will only be buying in the event of a sudden windfall (Petrus, Margaux, and d'Yquem), but also interesting bottles: like a Rousseau Le Chambertin '76 (£770), Chateau Montrose '34 (£307) and a Paternina Conde de Los Andes Rioja Gran Reserva '55 (£184).
I know that my blog is primarily about wine AND technology and, as you'll see from their site, it would be stretching the truth to say that The Sampler is at the cutting edge in terms of websites or their use of social media. But it's such a fantastic concept that I feel you need to know about it. And the tasting machines are kind of techie?

To see what's currently available to sample, click here.
To follow @samplerwine on Twitter, go to @samplerwine
Apologies if you're not UK-based. If you ever make it over here, give yourself a couple of hours to head to Kensington or Islington. It's worth the trip.