@CoravinUK Do you insert gas into the bottle after extracting wine? Otherwise, if you drink 50cl of 75cl, won't oxidisation start?
I thought that I had found the ultimate corkscrew: the Coravin™ System inserts a "thin, non-coring, medical grade needle" to pierce the cork (and capsule) in a bottle of wine, which then allows you to pour some wine in your glass. However, once you remove the needles, it leaves the cork intact. The Coravin claims that the "cork reseals and continues to protect the wine."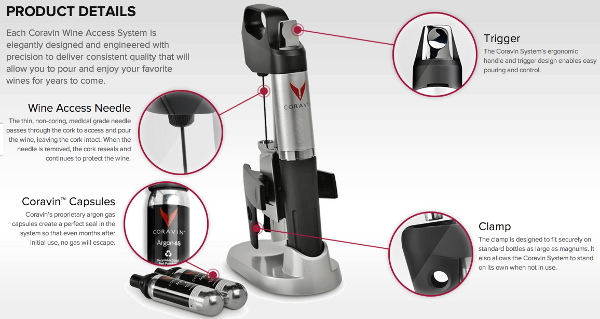 Initially I wondered if it was solving a problem that few 'normal' people had (although I can see the benefit to restaurants, bars and wine shops). However, as the owner of some pretty nice bottles, I can see that being able to have a small glass of something special, without committing to drinking all of it, definitely has its benefits.
However, surely there's a flaw: if you extract 50cl of a normally 75cl bottle, then there is a lot more oxygen in the bottle. Regardless of the cork still being sound, the increased oxygen would surely begin to oxidise the wine inside the bottle? It's the same principle as putting a stopper in an opened bottle of wine.
Then I saw the mention of argon gas and wondered if the Coravin, like enomatic machines, was using an inert gas to protect the wine. After sending the above tweet, our friend @winerackd at Eurocave confirmed that the Coravin does exactly that: "you insert argon first. It replaces the wine. Increased internal pressure forces wine out. No oxygen contact."
This is very exciting. However, it comes at a price: £269 (from many suppliers), with replacement canisters costing about £8 each). Sounds like one for the Christmas list.