Published 24 April 2013
"I'd come back just to eat the truffle butter again". When a dinner starts off with statements like that, you know you're in for a treat.
Having just worked on the rebuild of Red Carnation Hotel's website, I knew quite a bit about their hotels – including the fact that they hold the top 3 spots on Trip Advisor for best London hotels. So, when I was invited to a bloggers' dinner at their flagship hotel, The Milestone, I should have been pretty excited.
But, actually, I was quite nervous: I'd recommended the evening to a few eminent food and wine bloggers, and was now feeling quite responsible. Would they like the food and wine? I got the feeling that we weren't The Milestone Hotel's prime audience; we all appreciated great food and wine, but the décor made me think they were pitching to an older, more American, clientele.
Thankfully I didn't need to worry. The 19th-Century building is striking even in London's most affluent district of Kensington and Chelsea – I'd describe the décor as stately with touches of dubious decoration. The food and wine didn't let me down though; all courses (apart from the chicken soup – which I feel is a flight of fancy by the owner) were delicious and attractively presented, with marvellous wine matches from the sommelier.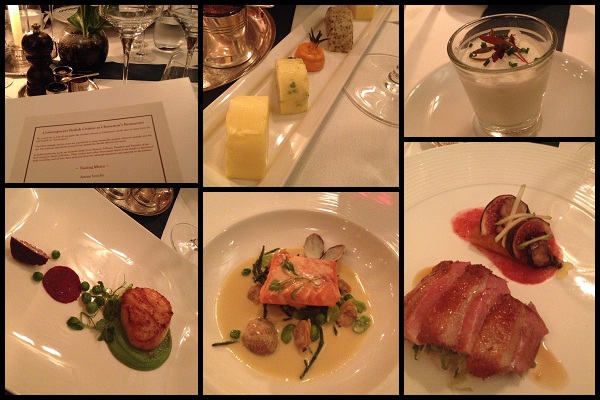 The dinner kicked off with us all crowing over the superb truffle butter – it's worth a trip to the hotel for this alone. The scallops, poached salmon and duck were excellent, and both desserts were delicious. The fact that we were full-to-bursting but ate every morsel backs that up.
The hotel's wine list is extensive. Thankfully, our sommelier had paired all the savoury courses with wines from Bouchard Finlayson – the same family owns both Bouchard Finlayson and Red Carnation Hotels. See the footnotes for more information on the food and wine.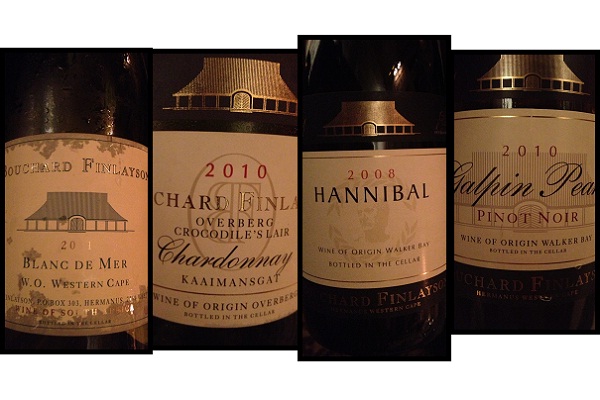 In short, I can forgive a bit of zebra print in a 19th-Century stately building when the food and wine is this good.
Food & Wine
Amuse bouche.
Bea's chicken noodle soup paired with Bouchard Finlayson Blanc de Mer (2011); WO Western Cape, South Africa. Made from Chardonnay (35%), Sauvignon Blanc (30%) and Riesling. The lack of oak gives it very fresh aromas of crisp citrus; not over-powerful & with slight acidity in the length (although disappeared when warmer).
Pan poasted West Coast scallops with baby beets and bordelaise sauce matched with Bouchard Finlayson Chardonnay (2010); Overberg, South Africa. This mid-weight Chardonnay is aged 50% in barrique and 50% stainless steel. Mid to full-powered aroma, not as powerful in the mouth, powerful acidity.
Poached fillet of Scottish salmon with ratte potatoes, steamed clams and clam voloute accompanied by the wonderful Bouchard Finlayson Hannibal (2008); WalkerBay, South Africa. Using a variety of grapes (Pinot Noir, Nebbiolo, Syrah, Mourvèdre, Cinsault, Grenache) this is a beautifully integrated and smooth wine, but also one with a decent weight. I thought it would massacre the flavours of the salmon, but it was a very good match. A favourite of mine as documented in Every Wine Tells a Story.
Slow roasted Goosnargh duck with savoy cabbage, confit potatoes and roasted figs paired with a Bouchard Finlayson Galpin Peak Pinot Noir (2010); WalkerBay, South Africa. This wine is grown on a mountain "so it's cool & not full-bodied". Delivers typical Pinot Noir aromas of raspberry, etc. Not full-bodied like an Aussie Pinot Noir, but enough to be a good match with the duck.
Honeycomb ice-cream with sesame seed tuile accompanied by a Coppo Moncalvina Moscato d'Asti (2010); Asti, Italy. A light sparkling wine with stone fruit aromas and flavours. Great match to balance the sweet desserts opposed to the usual, much sweeter, options.
Baked American cheesecake with strawberry coulis – also paired with the Coppo Moncalvina Moscato d'Asti (2010).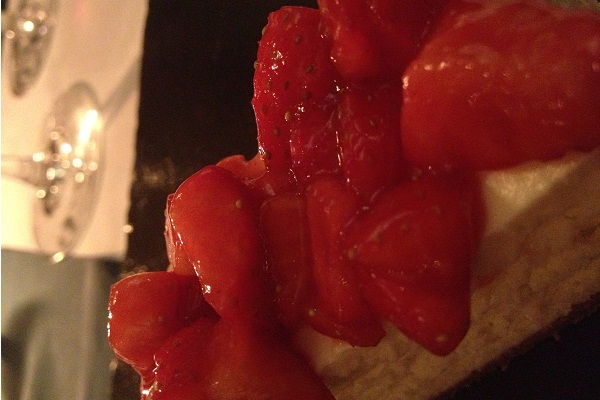 Red Carnation Hotels invited me to experience dinner at The Milestone as their guest, but I received no remuneration other than food and drink. All opinions are still my own.