Published 19 May 2011
Note: this is an extended version of my presentation at London International Wine Fair – the target audience being companies new to blogging. I know it breaks the 'length' rule it discusses, but it is meant as further reading for the companies who want to start a blog – apologies in advance.
"a web site containing the writer's or group of writers' own experiences, observations, opinions, etc., and often having images and links to other web sites."        Dictionary.com
What is a blog?
Put simply, its form can be a web page of any description. Most importantly, it is personal experiences, observations, opinions, comments, thoughts, musings; it is not about press releases, official statements, end-of-year financial results.
So should you have a blog?
A blog can give your customers an insider's view of your business. The personal side. It can help you share relevant and pertinent news with your consumers in a matter of minutes. A large proportion of corporate blogs see over 10,000 visitors per month. These blogs are bringing in new customers, but also importantly making existing customers feel special and strengthening loyalty.
A recent poll on Technorati saw many corporate bloggers saying things like:
"blogs helped our company be regarded as a thought leader within our industry"
"prospective clients have read our blog and purchased products or services"
"we have a much greater visibility in our industry because of our blog"
All seem pretty good reasons to have a blog.
Before you start!
Before you put fingers to keyboard, you need to decide what the purpose of your blog is.
What are you hoping to achieve? Who is your audience? For example, is it to update customers on the latest wines you're stocking, inform them about your en primeur campaign, or tell them about upcoming tastings that you are holding? Until you've answered these questions, you should NOT start a blog!
The most important element in any blog is…
Content
With around 1 million blogs being posted every day, you need to be posting something interesting. You need a niche. Tom Parnell of oldparn.com says, "It's similar to starting a business – you want to find a unique selling point and a niche in the market that no-one else is filling." A good question to ask yourself, from Andrew Barrow of spittoon.biz, is "Would you be interested enough to read it if someone else blogged it?"
Length
Keep it short. Write as much as you need to in order to cover the topic, but no more. Try to cut words out; never elaborate. Blogging guru, Rick Bakas, advises "make blogs short enough that they can be digested in 2 minutes". This is backed up by analytics that show the average reader will spend 96 seconds on your blog (if it's interesting!). This means between about 250 and 600 words.
Frequency
You should blog as much as you can, but ONLY when you have something to say. Never blog for the sake of it. Businesses should be posting a blog at least once per week. If you can't find one thing interesting to say each week, maybe you're in the wrong business! Posting on a set day each week can help build a regular audience, especially for video and audio blogs.
Which platform to use
There are hundreds of platforms to choose from: Twitter, Tumblr, Flikr, YouTube, WordPress are some of the most popular right now. Look around and pick one that suits you. Think about what you're going to use if for. It's likely that you're going to want to post photos at some point (88% of corporate blogs regularly use photos), such as photos of events, bottle labels, producers. So make sure you like how it displays them. 65% of corporate blogs regularly use video; do you want to do that? What about audio?
The platform you should use depends on what you are trying to achieve… and on you. Gary Vaynerchuk hates writing and loves the camera; but I'm the opposite. Tom Parnell of oldparn.com says, "Try not to imitate the style of established bloggers; instead, develop your own style & voice." Or, as Gary Vaynerchuk says, "People can smell BS".
I've put together my suggestions for a few blogger types: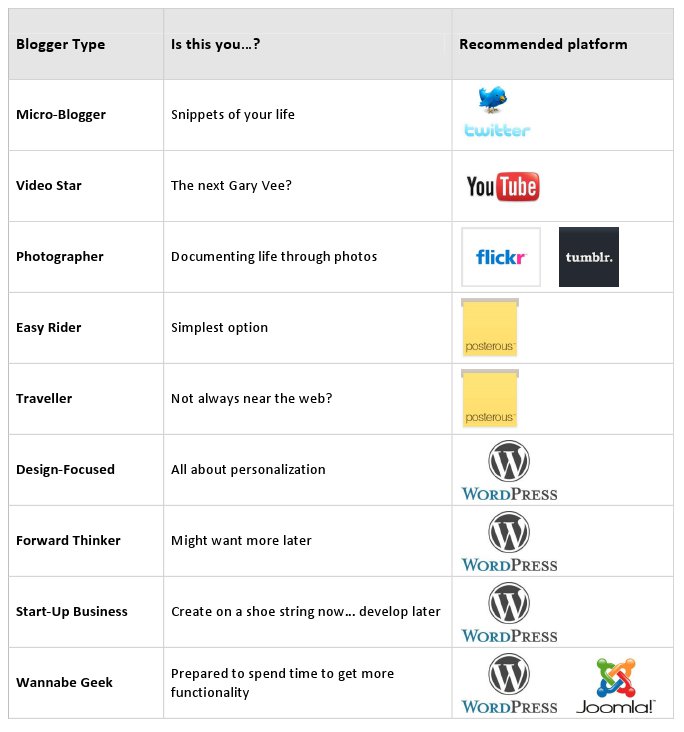 Posterous
I have deleted this section because Posterous is closing its service at the end of April 2013
WordPress
WordPress is currently the most used blogging platform: 40% of all blogs use it. This is partly due to it being easy to use (it took me less than 2 minutes to set up a site and post a new blog) but also because it does everything that Posterous does… and some.
However, some of this extra functionality does mean increased complexity. For businesses who are committed to having a serious blog, WordPress is probably the recommended platform (particularly because there are lots of developers/designers out there who can be contracted in to provide exactly what you want).
Like Posterous, you can have a free hosted version of WordPress, but you can also host it yourself (giving you added security in terms of longevity).
Just give it a go… you'll find that most platforms are pretty easy to use.
So, you've got your blog. What next?
1) Domain name
I recommend that you register your own domain name, rather than use the free domain given by the platform. This means, if at any time you want to move your blog to a different platform, you can make a seamless transition as far as your readers are concerned.
For example, my blog's real address is bigpinots.posterous.com, but I registered bigpinots.com and made this the address that the world sees. Therefore, if I wanted to change my blog to WordPress, I'd just tell bigpinots.com to look at the new wordpress address; as far as my readers are concerned, they'd still be visiting bigpinots.com
Although this may sound complicated, it is pretty easy to do. First step is to find if the web name you want is available. GoDaddy is a good site for this.
2) Promotion
A question that is often asked is "are there good and bad times to blog?" The easy answer for any breaking news is NOW.
For everything else, the best time to post a new blog depends on your audience. But it's probably best to avoid too late in the week (if you post late on a Friday afternoon, will you be around to interact with your audience?). In terms of statistics, the general consensus seems to be:
Monday and Tuesday usually get most views
Weekends get the least views
Most people read blogs in the morning and lunchtimes (between 8am and 2pm)
But it's not necessarily the blog that needs to be timed well; it's your marketing. You should be pointing all your SM towards your blog. As Richard Saxton of thegrapedcrusader.co.uk says, "make yourself as visible as possible, particularly on Twitter." Most companies use, as Carl Gerber calls them, The Holy Trinity of social media: Twitter, FB & blogs (using Twitter and Facebook to promote their blog).
So, it's really about finding the best times to publicise your blog posts via these and other platforms. The beauty is that you can do this at multiple times in order to capture your audience when they are at their most receptive. This brings me on to…
3) Analysis
In order to achieve the objectives of your blog, you need to have feedback. Some of this will come via interactions with your audience (through Twitter, Facebook and face-to-face). But it's also essential to have some analytics. Google Analytics is my preferred analytics tool: it gives you a good amount of data, is easy to implement, oh, and it's free!
For example, knowing that my audience is split between the UK and US, I tweet about my new blog posts at times when these audiences are most receptive. (Tip: using 'scheduled tweets' in HootSuite makes this easy).
I'm still monitoring my stats to find out which are the best times… you'll need to do the same for your audience.
Finally…
The final word comes from the writers of a fantastic corporate wine blog, bibendum-wine.co.uk: "Focus on the writing… quality counts. And keep at it! Tenacity and commitment are important – very few blogs make it big overnight".
Here are some good blogs:
There are lots of other great blogs, and their omission here is not a comment on them. But the above blogs are ones that are particularly relevant to the presentation and/or are by people who are at LIWF. For a fuller list of bloggers, go to the PeerIndex list of bloggers.