Published 27 April 2011
Introduction
At the end of March, I attended the Social Media World Forum (Europe) at Olympia in London. Billed as "Two days of interactive & engaging conferences featuring leading key figure keynotes, brand case studies, topical Q&A and debates, exhibition hall, workshops and networking", the focus of my visit was to find out which tools are available to help brands promote themselves in the realm of social media.
(There were a couple of interesting talks that I managed to catch – such as a discussion around the impending change to opt-in for cookies and how that's going to affect us all – but I'll blog about these another time.)
I thought that you might be interested in a few of the tools that I found:
Global Web Index  |  globalwebindex.net
Establishing which social media platform to use is not straightforward; whilst Brand A's target market may predominantly use Facebook, Brand B's may prefer Twitter, and Brand C's favour Flikr. Focusing on a platform that your customers aren't using is a waste of money, time and effort.
Global Web Index conducts 32,000 consumer surveys each year (across 16 regions) to help companies understand the online behaviour of their target audience, as well as monitoring how their web behaviour evolves, identifying new audiences and market opportunities, and providing independent guidance on new, emerging platforms.
Making sure you're using the most suitable tools to reach your target audience certainly seems a valuable exercise.
Engage Sciences  |  engagesciences.com
Over 60% of consumers follow brands/companies in order to get discounts (or some other added benefit). Engage Sciences helps companies address this need by building (and monetizing) promotions, sweepstakes, coupons, contests, quizzes, etc, on Facebook, Twitter and/or embedded within a website – and then monitoring the campaign.
For example, a wine company could post a questionnaire and, based on the answers entered, the customer would be told what kind of wine suits them (e.g. "You are a Fruit Bomb", or "Your are Deep & Complex", or "You are Bubbly")… and then be sent a discount voucher or special offer for those kind of wines.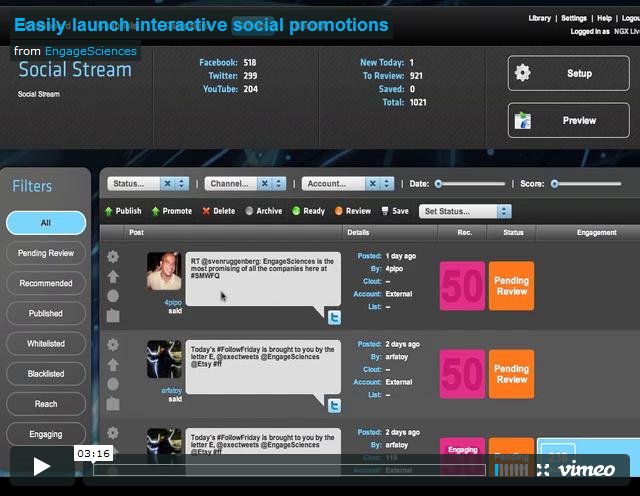 Accepting that input from peers is the most significant factor affecting purchases, Engage Sciences is soon to release new functionality to their system that will enable consumers to consult their friends directly from the site/page: "I'm thinking of buying a case of wine from Acme Wines, but am not sure if I should buy the Summer Special, the Beginner's Case or the Best of The New World – which should I choose?" I can see this having value to some companies.
Social Ad Manager  |  brighteroption.com
Helps create, upload and manage adverts posted on Facebook (you know, the ones on the right-hand side as per my FB page below). Using a Facebook API, it allows you to deliver ads to specific demographics. This product is accompanied by a suite of real-time reports, conversion tracking and optimisation tools. With no minimum spend or contract term, and cost-per-click or cost-per-1000-impressions options, there is little reason not to give this a try.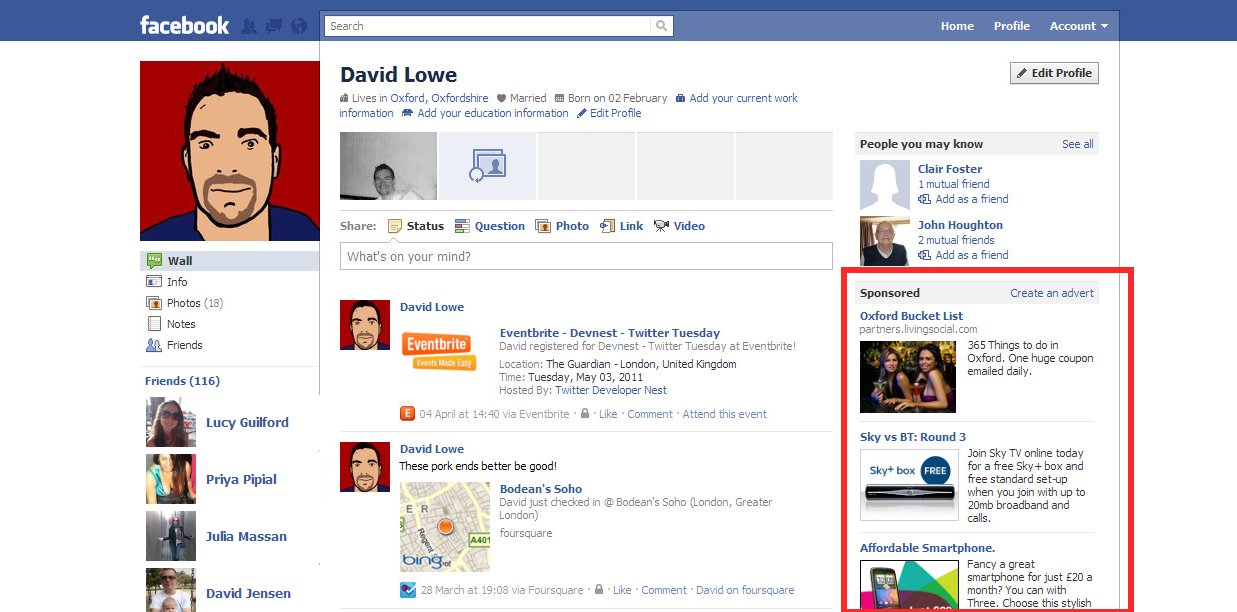 Conversocial  |  conversocial.com
Are you using multiple platforms (e.g. Twitter, Facebook, Tumblr…)? If so, then Conversocial may be useful as it allows you to manage all your platforms from one screen. You can schedule posts to go out at specific times throughout the day, assign stuff to other people, create (email) alerts for certain keywords, view interactions that you've had with people, and more.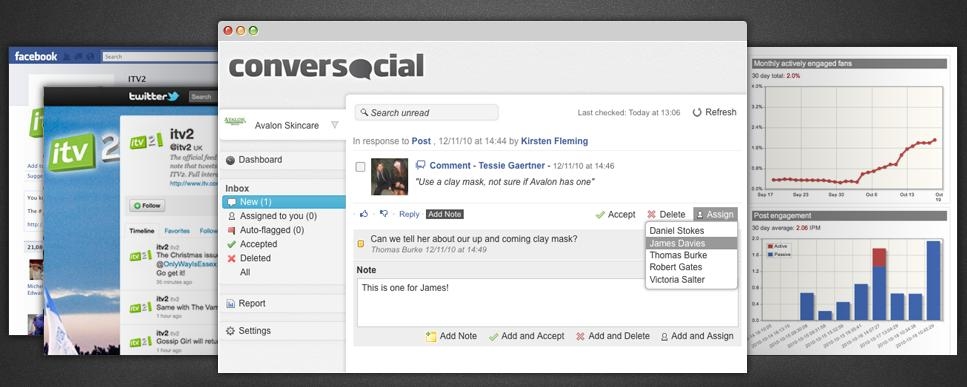 Alterian  |  alterian.com
Think of this as Google Analytics for all your social media. It has data going back 3 years (more than most others), allowing you to report on people you've connected with and trends, but also run competitor analysis. For example, you could find out which keywords/links are gaining the most attention for your competitors, then start focusing on these in your in your blogs, tweets, etc. Like many social media products, there is a pay-as-you-go option, or annual payment plan. It's definitely worth a look.
If you have found any other products that you think are useful, please feel free to let me know through the comments section or by tweeting me at @bigpinots.