Published 1 May 2013
A guy wearing a polo shirt turned to me and declared "I bought more Port last year than the rest of London". It was clear that I was in a room full of serious Port nuts.
I'd eaten at The Don (in The City of London) a few times and was familiar with the mural of a Zorro-like figure that greeted visitors. I was also familiar with Sandeman Port – and the Zorro-like figure that is their logo. What I hadn't realised was the connection: The Don in St. Swithin's Lane, EC4, now sits in what was the Sandeman cellars and HQ until 1955.
So it was fitting that Sandeman was launching their 2011 vintage Port (or Vinho do Porto if you're Portuguese) from The Don's basement. Luís Sottomayor, head winemaker for Sandeman Portos, took those of us less familiar with Port production through his processes. For example, did you know that Sandeman has eight tastings to ensure that the blend fits the Sandeman style? Or that a newly made Port spends its first winter in the Douro, so that it experiences the cold, before being shipped to Vila Nova de Gaia (near Porto)?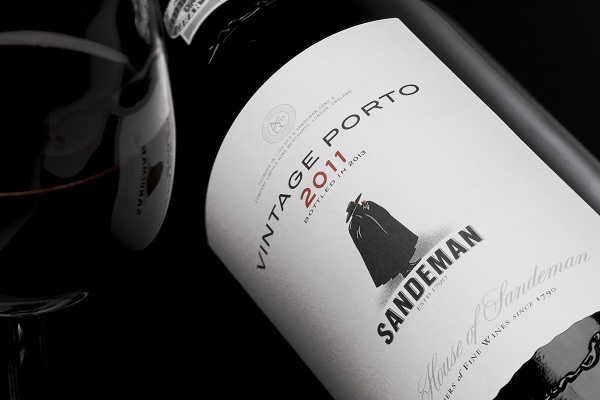 What I did know is that, unlike wine, Port does not always show the vintage on bottles. Whereas (most) wine is obliged to display the year the grapes were grown in, Port only declares the vintage in good years. Sandeman last declared a vintage in 2007.
Luís advised that 2011 was "a truly great classic vintage" with superb growing conditions throughout. This has resulted in a strong, robust Port that will age well in the bottle for many years. I don't think that he had caught the 'Bordeaux disease' of over-egging the latest vintage when he said that he had never seen Port with "such depth of colour, complexity of flavour, structure and power." In short, this means that it's drinkable now, but will also keep improving for a long time (if you can control yourself). When our polo-wearing collector asked when Luís thought the 2011 would be at its best, even the expert was unsure: "I don't know", said Luís, "In the next 20 years it will start to grow up and we will know more …"
Tasting note:
Colour: deep purple
Aromas: full cooked black fruits, cedar, spices (pepper)
Flavours: full-bodied, powerful acidity, full but rounded tannins, v long length
When to drink: drinkable now but will age in he bottle for 30 to 40 years. When you do drink it, you will need to decant it as it is bottled unfiltered
Blend: Touriga Nacional (40%), Touriga Franca (40%), Tinta Roriz (10)%, Tinto Cão (5%), Sousão (5%)
Production: 15,000 bottles
Cost: expected to be c. £55 per bottle. Purchase from independent retailers including Stevens Garnier
Sandeman (via Stevens Garnier) invited me to experience the new 2011 Vintage as their guest, but I received no remuneration other than food and drink. All opinions are still my own.