Selling a bottle of wine in a restaurant for three times what it cost is pretty normal in the UK. However, would you want to pay 600% the cost? How do you know which wines have bigger mark-ups? With difficulty.
Until now.
Raisinable is a new app available on iPhone and Android that gives you an idea of the markup being added by a restaurant. The wine list price is compared against data from Wine Searcher, with this nifty little app displaying a colour-coded markup percentage: green (< 200%) to amber (200-300) to red (over 300%).
For example, if you find yourself in Gaucho and fancy a bottle of Pinot Noir, you're in luck: there are six of them. If you're looking to pay between £40 – £50, then there are two to choose from: a 2011 Trapiche (priced at £47.50) and a 2012 Luigi Bosca (priced at £42). Which one should you buy? Raisinable will reveal that the average price for a 2011 Trapiche is £7, whilst the average price for a 2012 Luigi Bosca is £11: that's an increase of 579% the original price for the Trapiche, but only 282% for the Luigi Bosca.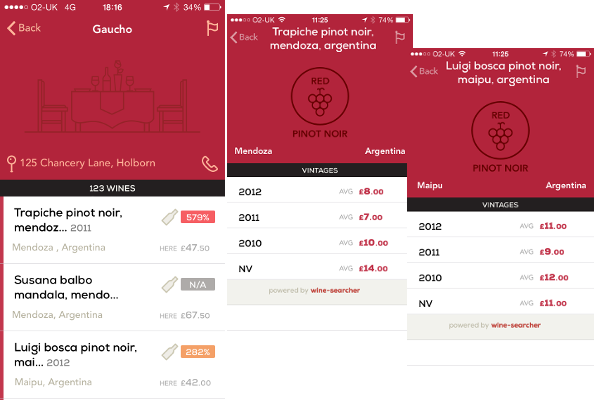 Of course there could be a perfectly acceptable reason for this difference (maybe Trapiche has become Jay-Z's wine of choice and it's now impossible to find), but it's still nearly double the mark-up on a bottle whose average price is nearly half.
The app, which is free and available for London and New York, is the brainchild of Olivia Chopin who came up with the idea during dinner at Perla with her husband: "We started discussing just how much money it cost drinking wine there instead of at home. I started fiddling under the table with an app to look up bottle prices one at a time and wasn't getting very far, but figured that there had to be an easier way of having all that pricing information at a glance." The next day, Olivia was drawing up basic designs and researching restaurant markups when she discovered that "markups varied hugely even at the same restaurant." Gradually Raisinable began to take form. 
Now back in London, Olivia and her husband, Adrian, are gradually adding restaurants to their database, and most of the popular restaurants are on there. It's fascinating to look at your favourites and see what kind of markup they are adding. As Adrian says, "Almost no restaurant has universally egregious pricing: it tends to be in a few limited areas. Conversely, there are relatively few restaurants that have universally excellent pricing: although 10 Greek Street is a great example of combining a very strong wine list with almost universally good value. We give restaurants like this a 'Raisinable Award' showing that they offer consistent great value."
It's a good app and a great idea. Go and download it now and let me know what you think.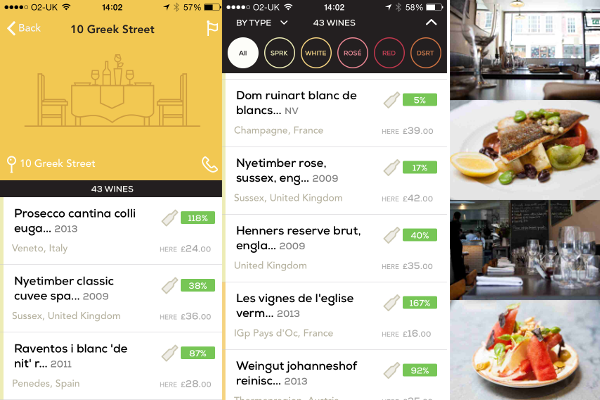 Raisinable asked us to highlight that Wine Searcher prices exclude tax. However, because they are average retail prices (not the lowest price available to the public) and not the wholesale price that restaurants pay, their opinion is that these factors "often balance out."
All prices and percentages quoted are figures used on Raisinable and the Gaucho website at the time of writing. We will not be held accountable or liable for any errors made by any party.