Published 21 November 2013
"Socks and boring books are out. Fizz and frolics are in!" ~ Mother Christmas
Oddbins' marketing team has ditched the usual Christmas nonsense and gone for humour and real magic this year: recruiting Mother Christmas and a close-up magician to spearhead their Christmas 2013 campaign.
For the rest of 2013, Mrs Claus has control of Oddbins' Twitter account (@oddbins) and is giving away Champagne on a daily basis through interactive competitions. And it is actually quite funny.
"If the in-laws are coming round for Boxing Day, then you better order an extra case of wine – it is the only solution in the Claus household!"
"Socks and boring books are out. Fizz and frolics are in!"
Regarding who is on the good list for pressies: "Energy company bosses, former tabloid crime reporters, tax lawyers or anybody recently caught twerking need not apply."
"Who does Kate think she is? Mother Christmas will decide if Prince William gets a Playstation or not. Honestly! Next she'll want to be Queen"
"Competition Time: Hull won CityofCulture2017. Best example of culture that should've come from Hull will #winChampagne e.g. Bat Out of Hull"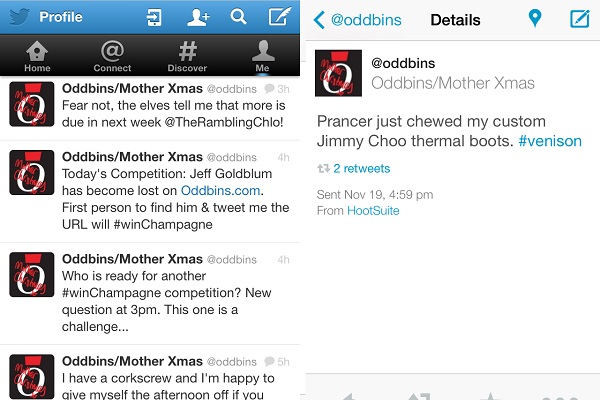 It's certainly better than an ex-cricketer selling us 480 mini sausage rolls for £1.
To accompany the matriarch, Oddbins has enlisted magician Tariq Knight (@tariqknight) to make a series of videos for Oddbins and to travel around stores performing in-house, close-up magic to customers.
Well done Oddbins. Again, you are thinking of innovative ways to make wine more appealing, as well as selling quality, everyday wines.
Bigpinots recommendation for the Christmas period: Ormadei Malbec 2011 for £11.50 – A full-bodied, rich, powerful, unrestrained Malbec from Mendoza (Argentina). Pairs perfectly with slippers, a roaring fire and a mince pie.