Published 28 November 2013
How to match wine to food is one of the first questions people ask me. Unfortunately, it's impossible to pass on all the information they need in a few minutes: you either give a few suggested pairings (e.g. Malbec with steak, Pinot Noir with lamb) or you try to give them some rules (e.g. match the richness/weight of the food and the weight/body of the wine). The former is good because it's easy to remember, but is very limiting; the latter is good because it gives them the skill to apply to multiple wines, but it often needs a bit of knowledge to be effective (e.g. that Pinot Noir usually makes a lighter red wine).
So I like it when people try to make it easier.
I got an email from the Gourmet Society recently, telling me that they'd produced "an illustrated guide to pairing food and wine". It sounded positive.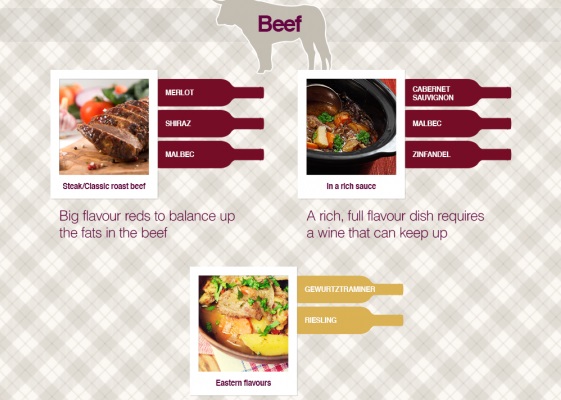 Click here for the full Gourmet Society illustration.
It's pretty good and I agree with most of their recommendations. I think they missed a few opportunities to straighten out thinking on matches for cheeses and, in particular, desserts. CABERNET SAUVIGNON DOES NOT GO WELL WITH PUDDING! DESSERT WINES, DESSERT WINES, DESSERT WINES!
However, I appreciate that they could only fit so much into their illustration. Which is why I return to thinking about the rules. Gourmet Society has put a few tips at the bottom of the image, but shouldn't they have led with them? And couldn't they have thought about an ingenious way to get these across rather than focusing on recommendations? We need to focus on disseminating the tools to help people understand how to match, rather than just what to match. That's when we'll add true value.
Do you have a clever way to help people remember the rules? Please let us know.