Published 7 November 2010
Time for a change
I recently decided that being involved in web and software development for the finance sector was no longer for me, and that the wine industry deserved my talent. After all, every company needs a decent website and a well-implemented social media strategy – not to mention usability testing, SEO, and other relevant add-ons, such as web services or mobile apps. So, with my experience of implementing web-based technologies to some of the UK's biggest names, a solid understanding of social media, and a WSET Advanced Certificate in my arsenal, I knew that I had a winning formula: geek + wine obsessive = job for Bigpinots in the wine industry.
The oversight in the wonderful idea
What I hadn't accounted for is the imbecilic nature of much of the wine industry. I spent a long time reviewing the sector and speaking to a vast array of players – high street shops, high-end merchants, shippers, educators, tasting organizers, agents – and, in a nutshell, the following is a summary of the sector's feelings:
Flash is cutting-edge technology. It allows us to greet visitors to the site with a nice feel-good video accompanied by music. These are the messages that we want to convey to our customers: style, quality, modernity.
A website is just an advert for our business (and somewhere to provide directions to our company/shops/offices).
Social media means having a Facebook page: a great opportunity to 'hit home' the text from the company's glossy brochure; but should never contain any information about our staff, or give out any opinions.
Blogs just hold frivolous content and are a waste of time for a serious company.
Twitter… that's just for kids and saddos who have no friends! Why would our customers want to know what we ate for lunch?
This amazing lack of understanding of what's going on in the real world is probably best illustrated by one response I received: "I don't really see how it can earn us any money". Just for the record, it doesn't work like that.
Not thinking straight
Companies cannot continue to think of technology as a separate element. It is not something that can be tacked on to your business's proposition. It needs to be fully understood – in fact, anticipated. Fixing an ill-performing site costs an estimated ten times as much as producing it correctly from the outset. Firstly, let's think of technology from a different angle: not in terms of adding new benefits, but as potentially preventing your customers from doing what they want if you don't take action.
Let's take Flash as a simple example. Anyone who has had their ear remotely near the ground would know that Apple's long-running spat with Adobe means that iPhones do not play Flash. Therefore, all sites that use Flash (which is a large percentage of wine-based sites) do not work on iPhones. Or iPads. It shows users a grey box with nothing in it. Users will close down most sites that use Flash when they are viewing it on an iPhone or iPad. Regardless of whether you have an iPad or iPhone, your customers do. And they will leave your site. Understand? So why do so many sites use Flash? Because the CEO or MD thinks it looks good. Even forgetting the Apple issue, most Flash sites look tacky, not flash.
I'll let you into a little secret: customers aren't impressed with slide shows of vineyards or people sitting in the sun drinking wine. They have come to your site looking for specific information, not escapism. Your job, as the provider of information to your customers, is to find out what they want to know and to give it to them in a direct manner. Users generally don't want to spend hours on your site; they want to find what they came for without having to jump through hoops (or sit through a 40 second video/slide show). Also, cut out the music! Lots of people will go to your site without wanting the whole world to know about it. They might be on a bus, or at work, or in a meeting (the joys of iPads!) – having some dodgy music greeting them is a sure-fire way of getting people to leave your site within milliseconds. It's embarrassing. Don't do it. Anyway, enough about website usability (my other blogs frequently cover usability and my next blog will name and shame a particularly horrible example from the wine sector).
My incredible free offer
Imagine if I offered you free, real-time comments that people are making about your firm. And, that you could then interact with these people when they are happy (to thank them for kind words) and when they are unhappy (to try to resolve their grievances). And, that these people would tell others about your personable company and promote you to their friends. And that your customers could tell each other about great wines they obtained from you – along with a photo of the label. Wouldn't that be great? Oh, and that you could then tell people, in real-time (and for free) about new wines that you were stocking (think en primeur releases), services that you were offering, tasting events that you're hosting, producers that you've just signed, etc. And, again, that people would tell their friends this information. And that it was all free. Wouldn't that be marvelous?
Well, that's just an example of how Twitter could be used. Many of the firms that I spoke to were unsurprisingly disdainful of Twitter, because they'd not bothered to find out what it was or invest time in thinking how it could benefit them or their customers. Yes, Twitter has some faults, but nothing's perfect. If you follow the suggestions in my previous blog ("Do I Care What You're Telling Me?") and read Twitter's advice for businesses, it's very likely that customers will be interested in what you have to say and that you'll get a lot from it too.
The trick with much technology is to work out what it does and then how it can benefit you (and your customers). Sometimes it won't be right for you, whilst at the same time being perfect for another business. Usually, though, it's about how well you apply the technology, rather than the technology itself.
Some facts
We aren't talking about insignificant numbers here:
Twitter has around 15 million active users (with over 75m registered users)
90 million tweets are posted every day (with 25% containing links)
500 million people are active on Facebook
250 million people log on to Facebook each day
700 billion minutes are spent on Facebook per month
Over 5 billion photos have been loaded to the image and video host, Flickr
And these stats are just three of the 300 most popular social media applications.Gary Hayes' Social Media Counts gives you fascinating real-time stats: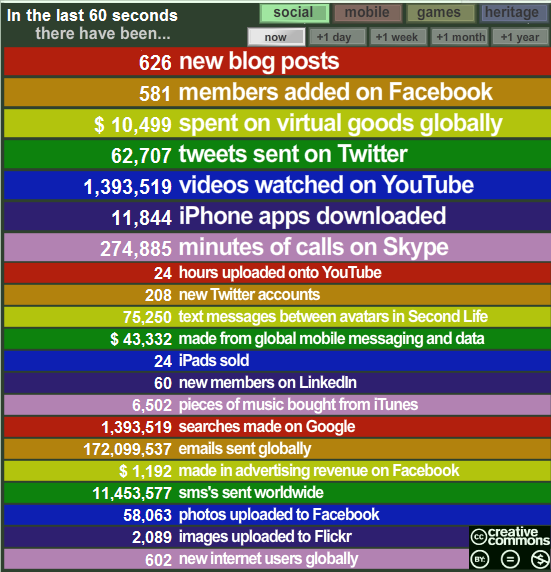 The online wine community is ready – are you?
If you are thinking that wine isn't what the above users are talking about, you are very wrong. The wine community has an incredible online presence. A tweet mentioning wine is posted every 2 seconds. There are thousands of users whose summary about themselves includes the word "wine". There are international conferences held annually for wine bloggers. These people are passionate about wine and are influencing each other. Jancis Robinson recently questioned whether the era of the wine guru (meaning wine journalist) is over.
So, think about it again. Can you really afford not to find out how technology can benefit your business? It might not be a case of what the use of technology will earn you, as much as what ignoring it will cost you? If you choose to ignore it, be prepared for your customers to find someone who isn't.
The sad thing is that the people who really should be reading this, won't be – because it's on a blog which is promoted through Twitter. Maybe I should print it out and send it in the post?