Published 16 April 2013
I grew up (in terms of wine education) with Decanter magazine. I have an enormous amount of respect for the contributors, consider the reviews thorough and think the articles on regions, personalities, markets, etc, to be of the highest standards. Decanter, to me, is like The Spectator, Time Magazine and National Geographic for wine.
So why did I cancel my subscription last year? Because I just didn't get to read enough of it. Maybe its strong point is also its downfall: is it just too in-depth? Is there a place in the market for an FHM or Cosmo for wine?
I was recently sent a link to read the inaugural edition of By The Bottle. I was a bit slow off the mark to download it to my iPad but, once I did, I couldn't put it down. What I love about it is that it has bite-sized articles about a variety of topics. Obviously there's wine, but there are also articles on fashion, how to play poker, cigars … even about doing yoga at your desk. Yes, I'm obsessed about wine, but even I like to read about other stuff every-so-often.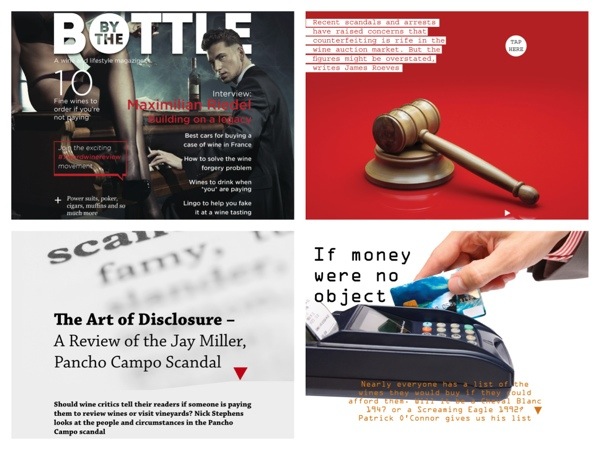 There's loads of wine-related articles (above) …
… but also loads of other stuff too (below)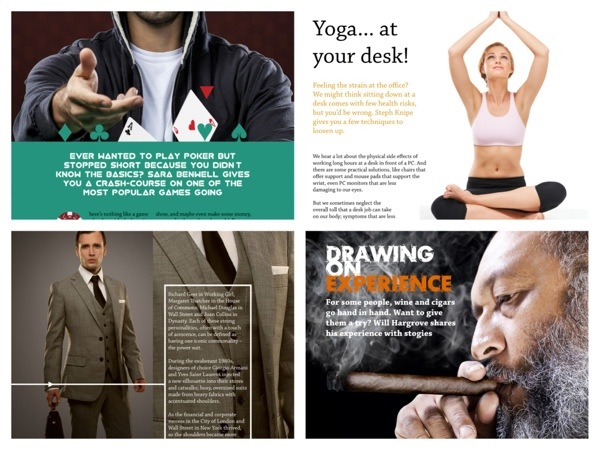 So, I thought I'd find out a bit more about the magazine. Here's what Geordie Clarke, editor at By The Bottle, had to say …
Bigpinots: What is the end goal?
Geordie Clark: Our goal is to produce a magazine for the person who loves wine but doesn't want to read a magazine that is just about wine. The Decanters and Wine Spectators of the world have the market for reviews and analysis of wine itself cornered, but they don't do the lifestyle and entertainment side of things very well. We wanted to produce a publication that is disruptive in its approach and breaks down the traditional idea of what a wine magazine ought to look like. We write plenty about wine, but we also have articles covering fashion, cooking and so on. Some people might say this means it lacks focus, but there are plenty of magazines out there that blend multiple subjects into a single package.
Bigp: What is the long-term plan?
GC: We would be ecstatic if we could turn this into a monthly magazine with a large number of subscribers. And we would like to become one of the most recognised magazines about wine.
Bigp: How often do you intend to publish?
GC: Currently we are publishing every two to three months. There are only a few of us working on it in our spare time, so we produce it when we're able. One day we hope to be a monthly.
Bigp: It's currently free; do you intend to charge for it? Or is it an ad-based concept? Will ad frequency increase?
GC: It is free now but we are considering charging a small fee for the magazine that will almost certainly undercut the traditional cost of a magazine. We want to make it as accessible and affordable as possible. Ad frequency is expected to increase as we gain a larger following and companies realise that they can reach a large audience through iPad users.
Bigp: Who chooses the content that goes in?
GC: I am responsible for making the final decision on the content in each issue, but Vim (founder of the magazine) and I develop the ideas together. Some of our writers also pitch articles to us.
Bigp: I know that it's available on iPad. Do you intend to put it on Android? iPhone? Print?
GC: We have an Android version already and we are looking to scale it down for iPhone use. There are no plans to make a print title just yet, but you never know!
Bigp: Who is your audience?
GC: We're very much aiming for adults in the 18-49 demographic (the lower age being dependent on the legal drinking age in any country where it's being read, of course). Overall we want to appeal to the male and female readers who live in the city or have a cosmopolitan lifestyle, have some money to spend and enjoy fashion, cooking, travelling, eating out, watching films and so on.
Bigp: Who are the people involved?
GC: I am the editor while Vim from 12×75 is the founder and owner. We also have a designer who works for us on a freelance basis. Our writers are a diverse group of people who simply love wine. Some work in the wine trade, while the others come from a variety of backgrounds and professions.
Download your copy of By The Bottle for iPad or for Android.