Published 25 April 2014
A friend of mine had a new "toy" at work: a Dräger Alcotest® 5510. He's a university researcher who focuses on sports nutrition and is about to embark on a study of how alcohol affects performance.
But, before he got started, I persuaded him to allow me to run a far less scientific test on a couple of friends.
The Experiment
Both people drank 150ml of 12.5% wine at the same time (apart from one occasion when they had 70ml each – because they were finishing a bottle)
They would then pause for 15 minutes before a measure was taken on the Dräger Alcotest 5510
Repeat
As you can see, the experiment was neither particularly scientific nor representative of how most people drink in a bar or pub; the breaks in drinking, which were AT LEAST 15 minutes, meant that the alcohol/blood levels were lower than if they had been drinking continuously. Also, the fluid being consumed were not legal measures; they were mostly in between the lower two measures of 125ml and 175ml (but way below a 250ml glass).
The Results
As I said, these findings shouldn't be taken as a guide to drinking patters (especially in light of what you should drink before driving), but I thought that you might be interested in what I found.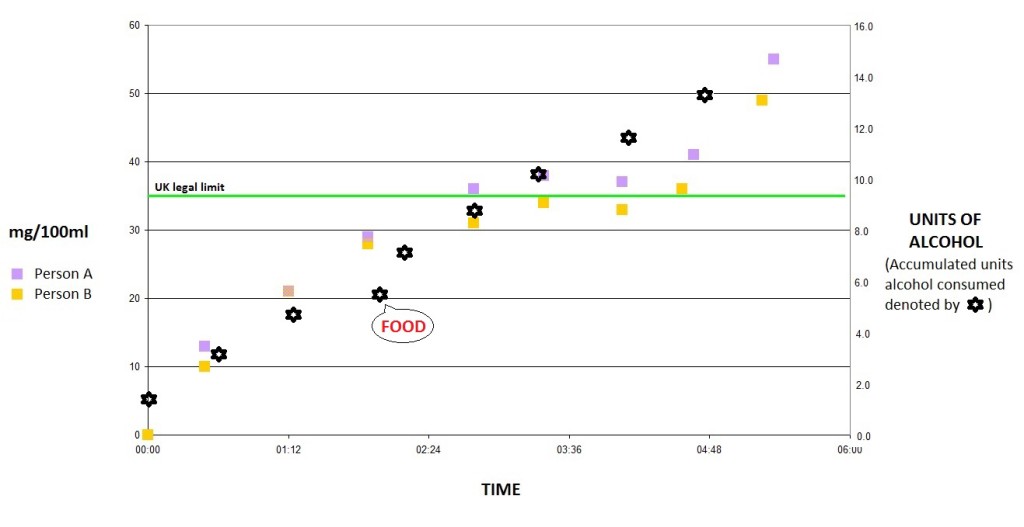 (Incidentally, both participants reported that they felt their driving ability would have been impaired way before they reached the legal limit for driving (i.e. 35mg/100ml) and thought the legal limit should be reduced!)
Have you done any similar studies? I'd love to hear what you experienced.