Published April 2016
I'm not one for Candy Crush or such distractions, but I have to admit that I'm slightly addicted to a game on my iPhone at the moment: the WSET Wine Game.
Made by Moonshine Media on behalf of WSET, the game has six levels of increasing difficulty and asks players to locate the wine region on a world map. For example, level one asks you to select the country that Alsace is in (it's France) whilst level 3 asks you to find Castlemaure Corbieres (it's in the Languedoc, France). I've only got to level 4 so I can't tell you how hard it gets!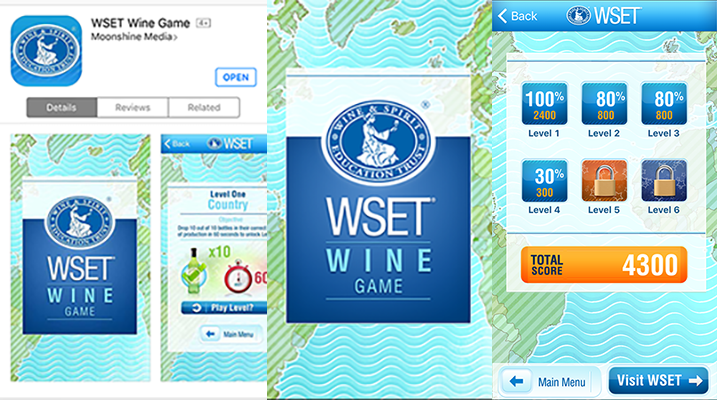 WSET say they made it because they "wanted to offer supplementary learning material, to educate in a fun way when students are not in the classroom." I'd say they've achieved their goal as over 50,000 people have downloaded the app so far.
There's no leader board which I quite like; it's about self-education rather than a competition. But I have to admit that I'd like to know how I compare to others. I asked WSET if they knew how far people get and they admitted that they don't have that kind of information, "Partly due to the fact that this app was a first for WSET, we didn't consider reporting on what levels were achieved." Never mind, I'll tell myself that level 4 is in the 95th percentile. The higher levels are not only more taxing from a knowledge point of view, it's also quite difficult to zoom in and out to each region which can require 6 taps to zoom out and back in again for each question. That's about a tap-a-second even if you have an omnipotent knowledge and don't make any mistakes.
With such a success, what's next for WSET? They told me that they have been spending a lot of their time developing a new website (more on that in months to come) and are now considering which direction to go in next. It doesn't sound like they plan on developing out the game further, and I don't think they need to.
I'm still encouraging them to build a tasting app based on their structured tasting methods. What would you like to see them do next?
WSET Wine Game is available for free from iTunes