Published 14 December 2013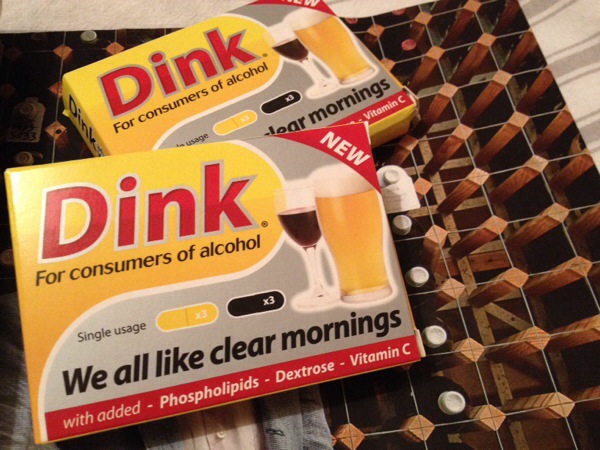 I think I drink sensibly. I try to have 4 nights a week when I don't drink and make the 3 nights I do drink start on Thursday or Friday. When I do drink, I try to make it of good quality and make sure that I share it with my wife.
But I know that sometimes it doesn't work out as expected. A second bottle is sometimes opened. A Monday night might be a cause for celebration. But I'm lucky: my long commute concludes with a short drive, so even at Christmas parties I am limited to a small glass of wine. Lucky? Yes. I remember what a hangover is.
So I suspect that I'm not the target audience for Dink. Claiming to "help the body recover from the harmful effects when alcohol is consumed", this "100% natural formulation" says it "supplements the body with what it needs to efficiently process alcohol and remove toxins". The method is just 3 tablets before drinking and a further 3 tablets at the end.
I'm pretty careful about what I put into my body, so I haven't tried it. I'm not sure that I want to mess with what's going on inside my body; if I drink too much, then my body will, slowly, deal with the poison in its own way. But I know that many people don't think like this and will try to find a miracle cure (or prevention). Maybe I'm just being a fuddy-duddy; afterall, I would always recommend eating alongside drinking, drinking lots of water when drinking wine, etc – is that very different.
So I'll keep an eye on what's going on with Dink. I'd be very interested to hear if you've tried it. I'd also be very interested to hear about other miracle cures that you use.
Whatever you are doing, take care over the festive period.
Dink clearly states that it will NOT stop mood changes due to alcohol and it will not allow the user to drink and drive and that it is "a supplement for health conscious people who consume sensible amounts of alcohol and still like to have clear mornings".